One of the main goals of the Free Omar Khadr Now-campaign is to hold the media accountable for proper coverage of all aspects of Omar's case. While there has been significant improvement in the way the mainstream media covers the story, misinformation, inaccuracies and lies continue to be printed!
Below the usual falsehoods that Canadian media imposes on us and our call for factual, fair reporting, voiced by Gail Davidson of Lawyers Rights Watch Canada: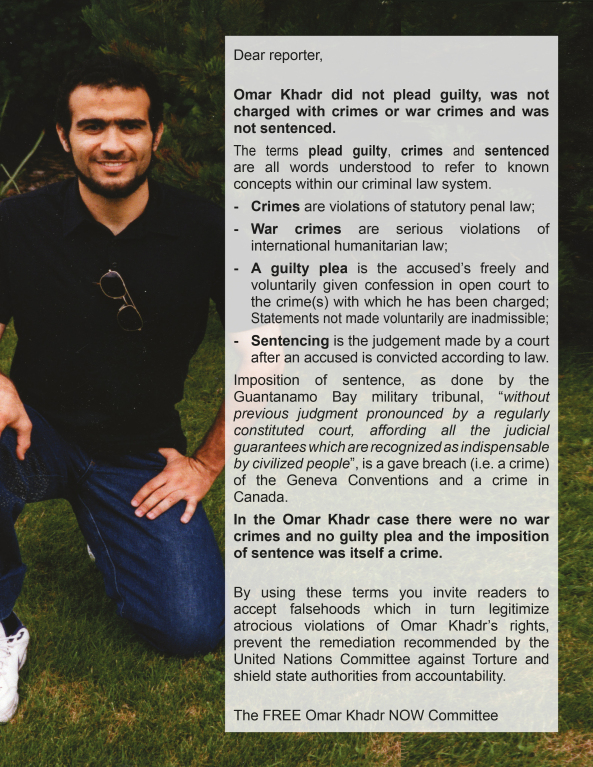 Misinformation, inaccuracies and lies continue to be printed by the mainstram media in their covering of the Omar Khadr story. Their legally and factually wrong reporting is dangerously misleading.
Mr. Khadr cannot reasonably (or legally) be considered to have 'admitted' to the U.S. accusations against him. In October 2010 Mr. Khadr had been arbitrarily (i.e. without legal justification and without access to judicial oversight to determine the illegality of his detention or his treatment) for over 8 years.
Throughout that 8+ year period Mr. Khadr was subjected to a variety of torture and other cruel, inhumane and degrading punishment and treatment, first at the notorious Bagram prison and then at the extra-legal Guantanamo Bay prisons. His treatment throughout is prohibited by U.S., Canadian and international law binding on the U.S. and Canada. In advance of his October 2010 scheduled appearance before the Guantanamo Bay tribunal, it was known by all that this process -the Gitmo tribunal- would not result in Mr. Khadr gaining his freedom. In August 2010, the White House had issued a public statement confirming the U.S. intention to continue to hold Guantanamo Bay prisoners indefinitely, irrespective of a finding of not guilty by the Guantanamo Bay tribunals. Mr. Khadr's acceptance in October 2010 of the 'get out of jail in eight years and go back to Canada in one year' plea bargain offered by the U.S. would not be considered by any properly constituted court in Canada as an 'admission' that could be used or relied upon, to establish guilt.
Having been obtained by torture and other impermissible coercion, Mr. Khadr's acceptance of the plea bargain is not and cannot be considered, an admission of guilt. This is a principle of law well understood by the public. The mainstream media's insistence on referring to Omar Khadr as a convicted murderer invites liste​ners/readers to assume that the media knows of factors unknown to listeners/readers, that render the wholly illegal capture, detention, treatment and extraction of statements through the use of torture, the charging and 'conviction' of Omar Khadr, as somehow (exceptionally) legal and justified.
For several years, Canadian mainstream media has persisted in parroting the erroneous pronouncements of the very governments implicated in the horrific and illegal maltreatment of Omar Khadr.
Gail Davidson
Lawyer's Rights Watch Canada - LRWC
3220 West 13th Avenue
Vancouver, BC CANADA, V6K 2V5
Tel: +1-604 736-1175
Fax: +1-604 736-1170
Skype: gail.davidson.lrwc
Email: [email protected]
Website: http://www.lrwc.org
---
Lawyers Rights Watch Canada (LRWC) is a committee of lawyers who promote human rights and the rule of law internationally by protecting advocacy rights. LRWC campaigns for advocates in danger because of their human rights advocacy, engages in research and education and works in cooperation with other human rights organizations. LRWC has Special Consultative status with the Economic and Social Council of the United Nations.
---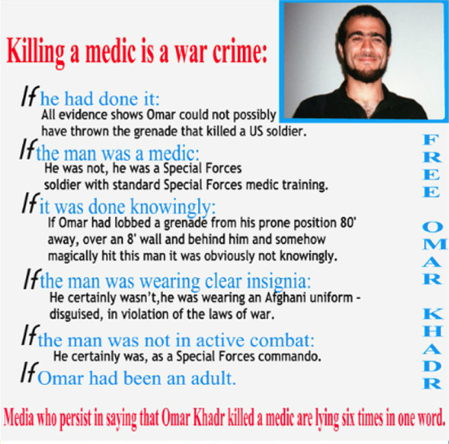 ---