Omar's gentle nature is clearly portrayed through his words in his letters to his many friends:
"I can never get used to people who care for me without knowing me personally. It is always heart-warming and reassuring, and it never ceases to inspire me to keep on going. People like yourselves are what we, as Canadians, pride ourselves with, the generosity to empathize with others in hardship and suffering."
"… Thank you for your wonderful cards and kind words. … Since I've come to Edmonton I've been feeling more connected to this beautiful city and it's wonderful people. Everytime I see somebody new or somebody writes to me I feel that I belong to Edmonton and that makes my heart warm. It's a gratifying feeling to belong to a place and to know that you are cared about and thought of. For that I'm eternally grateful to you, the city of Edmonton and all its wonderful people. …"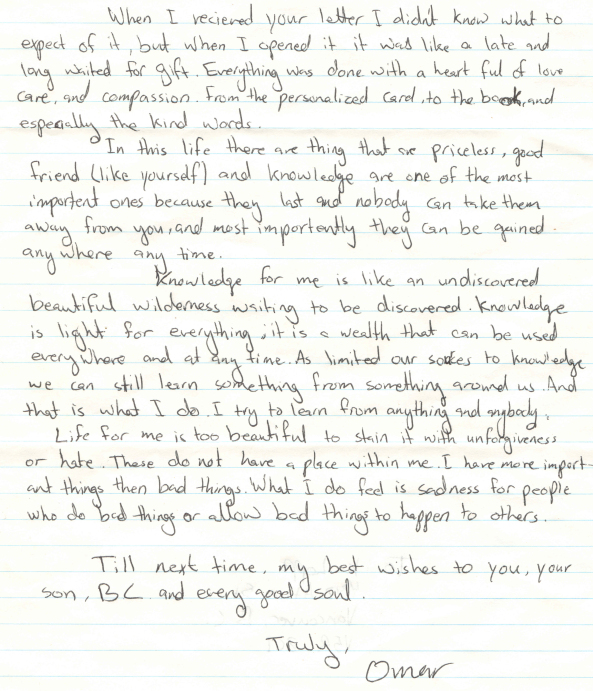 "… One of the blessings that came with my hard experience is coming to know such wonderful people like yourself. We as humans are special from other creatures (among other things) by the ability to extend our hands in help and support to those who are in need. Being able to be compassionate with our fellow humans is what defines us as Canadian. …"
"… Usually we don't appreciate the small things. We take them for granted. Once you lose these things like opening your window in the morning and taking a breath of fresh air or seeing a bird chirping, you really appreciate these things. Even though I'm in prison there are still a lot of small beautiful things around us. Seeing the sun rise or set or to see the snow fall. …" 
"… The pictures were almost surreal. These places are so pretty you only want to look at them and not touch anything for worry that you might disturb the beauty. … I have to admit I can't choose my favorite picture because each one is better then the other. …"
"… It's very odd how things happen in life. One good thing that came out of my ordeal is knowing wonderful people like yourself. …"
"… It's wonderful what ink and paper can do. It can connect people from opposite sides of the world. …"
"… I have to admit that this experience is not easy. I thank God for keeping me safe and with blessing me with an open heart and mind. …"
"… My new place is different definitely. People are generally nice, but with a lot of bad habits. Life here compels you to live like an animal because it is like a jungle. I have to change a little to defend myself, but not loose my humanity and who I am. …"
"… It's very heart warming to know that there are wonderful people like yourself (not that I believed there wouldn't be) who will take the time and effort to show their care and love. …"
"… In life there are things that remind us that there are others who have gone through hardship too. That is how I felt when I read Long Walk to Freedom. A man has gone through a lot but came after 27 years a better man for himself and his people. …"
"… I'm so happy to finally be in Canada, and even happier to be welcomed. It is so heartwarming to know that I'm not alone, and that there are wonderful people (like you) who care about me and wish me good luck. …"
A letter from Omar Khadr, from Millhaven Institution:
"Dear —,
It is soo nice to finally get your lovely card. — mentioned this card for me before, and I told her that I haven't received it yet. There was a lot of anticipation on my part to get your letter. From what — told me, and what I read in your card I know you were lovely people. I look forward, in the near future, to meet you, and to get to know your family better.
It's reassuring for me and heartwarming to know that there are people, other then your family, who care about me. When it gets lonely here for me, I always remember that there are wonderful people who care about. And it's always something to look forward to, is meeting you.
Should and when that day comes. I would love to see Amsterdam. I know it is beautiful, especially in the summer time. Maybe you can give me a tour when that day comes. This will be something we both look forward to.
Being back in Canada is, as you said, a wonderful thing. As big or difficult  change may be, it's worth it. The light of goodness out light  shadow that might be. There are to many good things in this life (as hard as it might be) to worry or even care about the bad thing. Things are what we make out of them. Prison can be a deprivation of freedom, or a time to enlighten ourselves. For me it is the latter.
Before I run out of space, I wish you a wonderful holidays and a a happy new year: filled with joy and happiness.
Till next time. I send you my warmest greetings (for your cold winter in the Netherlands) and best wishes. Take care and thanks for your kindness towards me and my family.
                                                         Truly
                                                           Omar"
.