Amnesty Petition, July 2015
---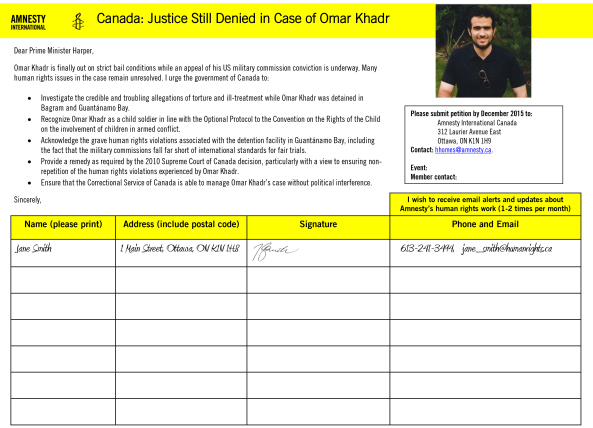 Dear Prime Minister Harper,
Omar Khadr is finally out on strict bail conditions while an appeal of his US military commission conviction is underway. Many human rights issues in the case remain unresolved. I urge the government of Canada to:
Investigate the credible and troubling allegations of torture and ill-treatment while Omar Khadr was detained in Bagram and Guantánamo Bay;
Recognize Omar Khadr as a child soldier in line with the Optional Protocol to the Convention on the Rights of the Child on the involvement of children in armed conflict;
Acknowledge the grave human rights violations associated with the detention facility in Guantánamo Bay, including the fact that the military commissions fall far short of international standards for fair trials;
Provide a remedy as required by the 2010 Supreme Court of Canada decision, particularly with a view to ensuring non-repetition of the human rights violations experienced by Omar Khadr;
Ensure that the Correctional Service of Canada is able to manage Omar Khadr's case without political interference.
Sincerely,
—————
---
Please submit petition by December 2015 to:
Amnesty International Canada
312 Laurier Avenue East
Ottawa, ON K1N 1H9
Contact: [email protected]
---
pdf of the Amnesty Petition: http://www.amnesty.ca/sites/default/files/canada_omar_khadr_july_2015.pdf
---