A Correctional Service of Canada report obtained by the Toronto Star states that due to his Guantanamo conviction, Omar Khadr was assessed as an inmate convicted of first-degree murder and terrorism and therefore is automatically designated "maximum security."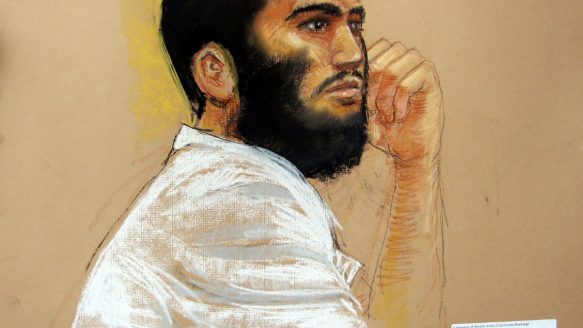 JANET HAMLIN / POOL
By:  Michelle Shephard Toronto Star
A Correctional Service of Canada report states that because of his Guantanamo conviction, Omar Khadr, now at Millhaven, was assessed as an inmate convicted of first-degree murder and terrorism and therefore is automatically designated "maximum security."
Former Guantanamo detainee Omar Khadr will remain incarcerated at Millhaven Institution's maximum security facility with little chance of rehabilitation or parole for at least two years.
A Correctional Service of Canada report obtained by the Toronto Star states that due to his Guantanamo conviction, Khadr was assessed as an inmate convicted of first-degree murder and terrorism and therefore is automatically designated "maximum security."
Although Khadr would be eligible for day parole in March, it is extremely rare for anyone with this designation to be approved. His status will be reviewed in December 2014.
University of Toronto criminologist Anthony Doob said he was dismayed that Corrections Canada chose to apply the standardized "Custody Rating Scale" for Khadr, which automatically designates him maximum security, despite the unique aspects of his case and reports of his good behaviour during his 10-year incarceration at Guantanamo.
"They should be looking at his past, the circumstances of his offence, how old he was," Doob said. "It's perpetuating this view that he's the same as the guy who is a terrorist or member of organized crime who killed somebody on the streets of Toronto yesterday.
"The thing about approaching this the way they did ensures the outcome. I've never met Omar Khadr, I know nothing about him and I can go to the web and see that he's going to be classified as maximum security.
"Isn't that a little bizarre? Why didn't it take three minutes instead of three months if that is all they were going to do?"
Khadr has been held at the Millhaven facility's hospital for assessment since being transferred to Canada from Guantanamo on Sept. 29. The 26-year-old is now expected to be moved to a range in the general population with other maximum security inmates.
The Khadr saga stretches back to July 2002, when at the age of 15, he was shot and captured following a battle in Afghanistan.
In October 2010, he pleaded guilty to five Guantanamo offences including "murder in violation of the laws of war" for the death of U.S. Delta Force soldier Christopher Speer who was fatally wounded in the battle.
His plea deal gave him an eight-year sentence and chance to return to Canada.
Child and civil rights advocates, including Liberal Senator and retired Lt. Gen. Romeo Dallaire, have pushed to have him recognized and treated as a child soldier, and the UN condemned both the U.S. and Canada for the prosecution of a juvenile for war crimes.
Khadr's lawyer, John Norris, said he was disappointed the designation will limit Corrections Canada's ability to provide rehabilitation options, aside from Khadr continuing his education and religious counselling from a prison-approved imam.
"Their hands really are tied by the fact that he's stuck in max, because they can't help him get ready to return to the community," Norris said, adding that he is "weighing the options" in terms of any legal challenges.
"What he really needs is the ability to re-integrate into the community. Re-integration is one of the cardinal principles of dealing with child soldiers. It's also a key principle in dealing with young people in general."
Véronique Rioux, a spokeswoman for Corrections Canada said she was unable to comment on individual cases, citing privacy concerns.
It is believed Khadr will receive similar rights as other inmates, including the ability to see visitors. Norris said Khadr has already met with his mother Maha Elsamnah and Arlette Zinck, an English professor from King's University College in Edmonton, who began providing him lesson plans and visiting him while he was incarcerated in Guantanamo.
Although the eight-page report does outline many of the aspects of the case, Khadr's security risk rating of 139 determines his status. The scale automatically gives him 69 points for a murder conviction, 20 points for a terrorism offence, 30 points for his age at the time of conviction (he was 25) and 20 points for his sentence length (eight years.)
Any rating over 134 is considered maximum security.
"This says absolutely nothing about whether Omar is a danger to the public and it's critical people understand it's completely divorced from that," Norris said. "In fact, the scoring requires Corrections to ignore the evidence that his is not a danger."
The Millhaven's Assessment Unit report recommends that Khadr be kept in a "highly structured environment in which individual and group interaction is subject to direct and constant supervision
"During the intake assessment interview Khadr emphasized that his current sentiments/beliefs reflect pro-social changes in attitudes promoting peaceful resolution to conflicts," the report states.
But the report also notes that given Khadr's limited access to other inmates since his arrival, it is difficult to assess how he will interact with other prisoners.
"Not to negate the length of time he has spent in custody (in Guantanamo) with no evidence of attitudinal or behaviour problems; Khadr is a new arrival to the Canadian federal correctional system . . . Correctional Services Canada has not had the opportunity to assess the risk he may pose to the security of the institution, other offenders or the risk to his own safety."
Concerns about Khadr's connections to Al Qaeda as a teenager and during his incarceration at Guantanamo are noted in the report, which recommends monitoring his association with other offenders, "particularly those who look up to him." A security officer noted a Millhaven inmate convicted of terrorism communicating with Khadr through his cell on Oct. 1, 2012, the report states, without giving any further details.
The report references positive assessments of Khadr by Katherine Porterfield, a clinical psychologist at New York's Bellevue Hospital and forensic psychiatrist and retired U.S. Army Brig.-Gen. Stephen Xenakis. The pair spent several years and hundreds of hours with Khadr during his detention in Guantanamo and the report states according to their accounts, "it would appear that Khadr demonstrated the ability to develop positive interpersonal relationships."
But the report also states, that "Correctional Services Canada is not in receipt of information from Guantanamo Bay pertaining to his behaviour while detained at the facility."
There is no mention of the reports by psychiatrists Michael Welner or Alan Hopewell, which Public Safety Minister Vic Toews personally requested from U.S. defence secretary Leon Panetta, delaying Khadr's expected transfer to Canada and infuriating Obama administration officials eager to transfer the Toronto-born detainee.
Welner told a Guantanamo courtroom during Khadr's sentencing hearing that he was "highly dangerous" and considered a "rock star" at Gitmo.
Source: http://www.thestar.com/news/world/2012/12/20/omar_khadr_will_remain_incarcerated_for_at_least_two_years_report_says.html