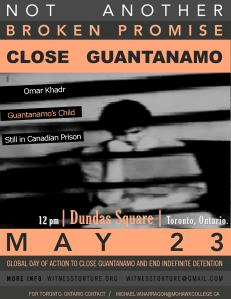 Toronto Event: May 23, Dundas Square at noon
---
The Canadian Close Guantanamo event on Dundas Square will have a special focus on Canadian Omar Khadr, who - after 93 days Bagram and 3624 days Guantanamo - is now held in a Canadian jail for 601 days, based on an illegal Guantanamo conviction.
On Facebook: Close Guantánamo. No More Excuses. | May 23, Global Day of Action, Toronto.
---
The story of Guantánamo remains that of nearly 800 men and boys thrown into an island prison designed to exist beyond the rule of law. Most were simply in the wrong place at the wrong time, refugees fleeing the chaos of war in Afghanistan. The U.S. military captured only one in twenty; many were sold for significant sums of money to the U.S. by local authorities in Afghanistan and Pakistan. Of the 155 men who remain at Guantánamo as of January 2014, approximately half were cleared for release years ago. The vast majority will never be charged with any crime.
On his second day in office, President Obama pledged that he would close the prison within a year. He has reiterated his promise many times since then, and under current law, he has the power to make it a reality, But in 2014, Guantánamo is still inexcusably open and entering its thirteenth year. No more excuses. Guantánamo must be closed.
The men detained at Guantánamo brought the prison back into the consciousness of the world through their mass hunger-strike in 2013. They effectively helped pressure the Obama administration to begin releasing men, after nine months without a transfer. But today, the base is looking more and more like an internment camp for Yemen men. Yemenis now constitute more than half the population at Guantánamo, and most have long been cleared for release.
- Courtesy of the Centre for Constitutional Rights, New York, USA
The May 23rd Day of Action is being coordinated by Witness Against Torture in collaboration with the Free Omar Khadr Now Campaign and many others in 38 cities around the world.
Read more: May 23 2014 Global call to action to Close Guantanamo.
---
Omar Khadr, innocent and illegally detained for 4318 days, since the age of 15.
---
.