---
At last.
Omar Khadr's sentence is finished, Alberta judge rules. He is a free man now, after 17 years of injustice. A huge debt of gratitude to Omar's lawyer, Nate Whitling, for years of steadfast defense. We also thank all those who have supported our campaign throughout the years.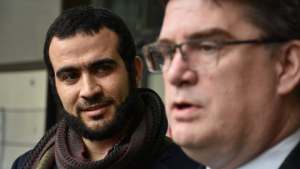 CBC Edmonton made the commendable effort to interview three experts for today's article on the judge's decision to end Omar's sentence <read article here>. Nate Whitling, Omar's very determined and brilliant lawyer offers his perspective on the case, as does U. of Alberta professor Janice Williamson, editor of Omar Khadr, Oh Canada and member of Free Omar Khadr Now Campaign. Included too, is Audrey Macklin (Professor and Chair in Human Rights Law at U. of T.) who has written extensively on the illegality of Omar's Guantanamo detention, charges and sentence. How refreshing to hear from those who help the Canadian public appreciate the injustice Omar has faced all these years.
Still left is the US appeal to overturn Omar's Guantanamo 'conviction'. The rule of law is strong.