PRESS RELEASE | GLOBAL DAY OF ACTION TO CLOSE GUANTANAMO
NOT ANOTHER BROKEN PROMISE
NOT ANOTHER DAY IN GUANTANAMO
Where: Yonge-Dundas Square, Toronto
When: May 23, 2020 12:00-1:30 PM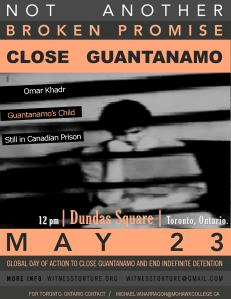 May 23 marks the one-year anniversary of President Obama's promise to close Guantanamo. In more than 30 cities around the world including Toronto, plans are underway for a global day of action to demand the end of indefinite detentions and the closure of Guantanamo.
Witness Against Torture and the Centre for Constitutional Rights, two human rights organizations, lead this global initiative.
This Toronto event is planned by the Free Omar Khadr Now Campaign.
To understand the story of Canadian Omar Khadr, "Guantanamo's Child," is to realize why Guantanamo must be shut down without delay.
In 2002, at the age of 15, Omar Khadr was captured in Afghanistan where he was tortured and abused. A few months later he was transferred to Guantanamo and held without charges until 2007, all the while being denied his legal rights, access to education and proper medical treatment for severe injuries. Fifteen juveniles were detained in Guantanamo and later freed; however, Omar Khadr was the only child left there, abandoned by his country and a decade later he was the last citizen of a Western country to be repatriated. He is the only child in modern history to be convicted of war crimes. While 6000 US soldiers died in combat, Omar Khadr is the only individual charged with killing a US soldier.
In 2006 the Military Commissions Act created new laws defining terrorism, spying and combat as war crimes. These new crimes, recognized only by the US, were applied retroactively to Omar Khadr for alleged actions in 2002. Statements obtained through torture and doctored reports were used to convict him. In a forced plea bargain in 2010, he pleaded guilty to all charges in exchange for a sentence of 8 years and repatriation to Canada.
The links include statements of the event by the Centre for Constitutional Rights and Witness Against Torture. Linked also is the handout | "What is Omar Khadr's Story"  by the Free Omar Khadr Now Campaign which provides material key to any discussion of legal and human rights within a Canadian context.
Contact:
Michael Van Arragon:
[email protected]