Dear Dennis: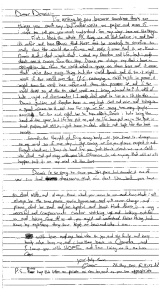 I'm writing to you because sometimes there are things you can't say, but rather write on paper, and even if I were to tell you you won't understand. So anyway here are the things:
First: About this whole MC [Military Commission] thing we all don't believe in and know it's unfair and know Dennis that there must be somebody to sacrifice to really show the world the unfairness, and really it seems that it's me. Know Dennis that I don't want that, I want my freedom and life, but I really don't see it coming from this way. Dennis you always say that I have an obligation to show the world what is going on down here and it seems that we've done every thing but the world doesn't get it, so it might work if the world sees the US sentencing a child to life in prison, it might show the world how unfair and sham this process is, and if the world doesn't see all this, to what world am I being released to? A world of hate, unjust and discrimination! I really don't want to live in a life like this. Dennis justice and freedom have a very high cost and value, and history is a good witness to it, not too far ago or far away how many people sacrificed for the civil right law to take affect. Dennis I hate being the head of the spear, but life has put me, and as life have put me in the past in hard position and still is, I just have to deal with it and hope for the best results.
Second: The thought of firing everybody as you know is always on my mind so if one day I stop coming or fire you please respect it and forget about me, I know it is hard for you. Just think about me as a child who died and get along with your life. Of course I am not saying that will or willn't happen but its on my mind all the time.
Dennis. I'm so sorry to cause you this pain, but consider it one of your sons hard decisions that you don't like, but you have to deal with, and always know what you mean to me and know that I will always be the same person you've known me and will never change, and please don't be sad and be hopeful and know that there is a very merciful and compassionate creator watching us and looking out for us and taking care of us all, you might not understand these thing, but know by experience they have kept me how and who I am.
With love and my best wishes to you, and the family, and everybody who loves me, and I love them back in Canada, and I leave you with HOPE and I am living on it, so take care.
Your truly son,
Omar
26 May 2020 at 11:37am
P.S. Please keep this letter as private as can be, and as you see appropriate.