Vernon B.C.: TUESDAY January 28 at 6.30 p.m. | In the upstairs lounge at the Bean Scene
Event by Amnesty Vernon to discuss Omar Khadr.
Local performer Christine Pilgrim had recently attended an moving talk by Omar Khadr's lawyer, Dennis Edney. She will talk about the human rights violations endured by Omar and invite those who also believe in the power of the pen to address letters on his behalf.
"Dennis Edney ended his moving talk about Omar Khadr's situation by saying, 'The only crime worse than willful inhumanity is the crime of indifference, of silence, of forgetting.'"
Admission to the event is free and open to everyone, from youth to senior. For more information, e-mail [email protected] or call 250-542 4152.
London, Ontario: WEDNESDAY January 29, 7 p.m. - 9 p.m. | In the UCC Room 67
Screening of the documentary "You Don't Like the Truth: Four Days Inside Guantanamo" followed by human rights discussion with Law Professor Michael Lynk. Come out and discuss the truth about Omar Khadr.
Event is sponsored by MSA and Amnesty International at Western. For more information contact Homaira at [email protected]
Edmonton, Alberta: FRIDAY January 31, 5 p.m. - 6.20 p.m. | UTC-07 Telus Centre 150 University of Alberta
Amnesty International - U of A Chapter organizes "The Friend I've Never Met" as a part of University of Alberta's International Week.
Human rights advocacy work has an emotional impact, both on those who benefit from advocacy and on those who perform it. We will explore the connection between social justice work, solidarity and mental health with panelists such as Dennis Edney, defence lawyer for Omar Khadr, and Dr. Arlette Zinck, educator and advocate for Omar Khadr. Each panelist will share their experience and how their life and sense of community waschanged. A question and answer period will follow.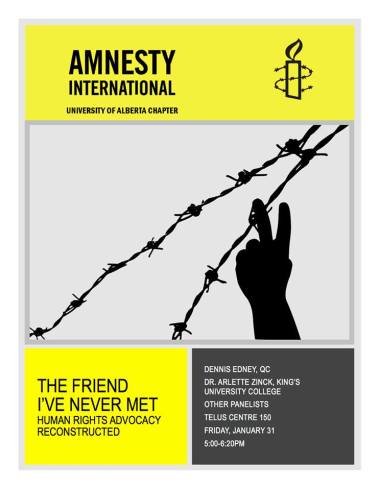 FEATURING:
Dennis Edney, QC; Dr. Arlette Zinck, King's University College; and other panelists
Sponsored by Amnesty International.
Please bring your friends, come listen to some new perspectives and join in on the conversation! Following the event, there will be a reception featuring student groups tabling about their advocacy work and refreshments!!!