[+]  FREE Omar Khadr NOW Poster           [+] Vancouver FREE Omar Khadr NOW on Facebook
Omar Khadr Still in Jail After 11 Years: What´s Next?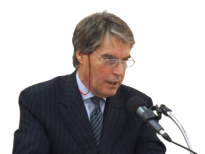 Dennis Edney, QC
Omar Khadr´s Lawyer and BC 2009 Human Rights Recipient
Tuesday, April 16, 2013  7:00 - 9:00pm
SFU Harbour Centre, 515 West Hastings Street, Vancouver
Free Admission
At 15, Omar Khadr was captured by US Special Forces in Afghanistan and charged several years later with the death of a U.S. soldier. For 11 years he has been imprisoned in Afghanistan, Guantanamo Bay and now Canada. Kept in solitary confinement, tortured, and deprived of medication for his wounds, Omar was convicted by an illegal military process based on a confession extracted by torture. No evidence of his guilt was ever produced. The offences to which he confessed were not crimes in 2002, and therefore prosecution is universally banned. A U.S. appeals court threw out similar charges against another Guantanamo prisoner.
Canada was the only western country to not secure the release of its citizen from Guantanamo. In 2012 Omar was returned to Canada. Now in the maximum-security Millhaven Institute, he has no access to educational or rehabilitation programs.
Canadian lawyer Dennis Edney is a frequent, international speaker on legal matters, including the rule of law as it relates to the war on terror. He was the Keynote Speaker on the Rule of Law for Amnesty International at Trinity College, Dublin in 2005 and at the Global Struggle against Torture conference in London, UK, in 2005.  He is the recipient of the 2009 British Columbia Human Rights Medal.
This talk is organized by the Vancouver Free Omar Khadr Now Committee, which is committed to working locally and nationally to free Omar Khadr. Join us to help right this terrible injustice.
W   www.FreeOmarAKhadr.com
.
FREE OMAR KHADR NOW!
.