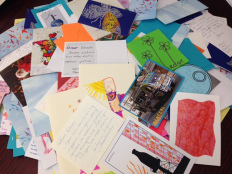 Dear friends and supporters,
From his cell in Bowden institution Omar sends his sincere gratitude to you for your unwavering support for him. He specifically asked us to pass his heartfelt New Year's greetings to you all.
He has been overwhelmed (both figuratively and literally) by the volume of mail he has received over the last couple of weeks - he estimates he has received over 500 pieces of correspondence with many more that did not get through because of Corrections Canada restrictions on certain types of paper and cards.
As you all know, his eyesight is not good right now, but he has a couple of friends at Bowden who are slowly helping him read through the mail and it is a wonderful encouragement for him to know that there are so many caring people out there.
Omar was especially moved by the piles of letters and cards from Quebec and Nova Scotia, where there seems to be a particularly large groundswell of support, especially from students.
We are convinced that you all join us in the hope and prayer that Omar's next New Year's celebration will be from outside the prison walls.
On behalf of Omar Khadr,
The FREE OMAR KHADR NOW-campaign
---